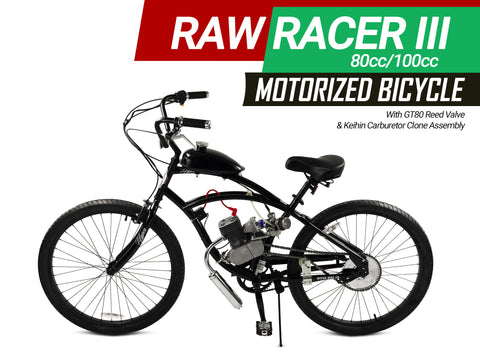 Raw Racer III 80cc/100cc Motorized Bicycle
Raw Racer 80cc/100cc Slant Head Motorized Bicycle 
This motorized bicycle engine kit includes: 
Hyper 26" Men's Beach Cruiser Bike
Raw Racer III 80cc/100cc Engine Slant Head - 3.5HP+
GT80 Reed Valve & Keihin Carburetor Clone Assembly
Standard Engine Finish
Friction Clutch; Pedal Start
Magneto With Solid State CDI Ignition
44Tooth, 9 Hole Chrome Sprocket
3 Plate Sprocket Kit
2.0 Liter Fuel Tank, Tear Drop Shape (Black Color)
Chrome Muffler
Push Button Clutch Lever And Cable
Twist Throttle With Engine Kill Switch
Improved Gas Valve
Fuel Line #2
Idler Pulley Chain Tensioner with Bearings
Chrome Lined Cylinder Wall
202 Crankcase Bearings
Needle Bearings On Piston Wrist Pin
Improved 415 Chain
Chain Guard
Tool Kit
All The Mounting Brackets, Gaskets, And Hardware Including Nylon
Locking Nuts
Universal Motor Mount
Complete User Manual
6-Month Limited Warranty Included - FREE
Extra Standard Slant Cylinder Head
Improved magneto
Stainless steel allen bolts
Better balanced crank
Upgraded bearings / 60% thicker crank case around bearings
Stuffed crank case
Large intake port (40mm bolt hole width)
Round exhaust port
40mm crank stroke (more powerful, efficient, and reliable)
Type B piston (high wrist pin)
Long rod (89mm)
Larger 8mm x 1.25 engine mount studs
Dimensions: 9" x 9" x 5"
Light Weight Aluminum Frame. Easy to use pedal backward coaster braking. Platform Cruiser Pedals. Light Weight Alloy Wheels. Padded Spring Comfort Seat Full wrap fenders. Large upright handlebars that put the riders in an upright comfortable riding position. Great for casual rides around town, this classic cruiser is equipped with a simple pedal backward coaster brake and full wrap fenders. The large padded spring saddle and multi-surface balloon tires provide a smooth and comfortable riding experience.
How to Install 80cc 66cc 48cc 2-Stroke Bicycle Engine Kit
Raw Racer III (Standard Finish) Slant Head Bike Motor Kit FAQs: 

Question: How much weight will this engine kit add to a bike?
Answer: The engine kit will add 24 lbs to your bike. The 49cc engine kit will add 31 lbs to your bike. Note: We suggest a 26" Men's standard V frame bike. 

Question: What fuel do I use for this engine kit?
Answer: This 2 stroke stroke motor kit requires an Oil and Gas Mixture as follows:

When New: 16 to 1 (8oz per Gallon) 
After 2 Tanks Of Break In: 32 to 1 (4oz per Gallon)

You should get 100-150 Miles per gallon and achieve 20-40 MPH depending on climate, altitude, bike weight and rider weight

Question: How do I start and stop my bike with the Raw Racer III?
Answer: The starting and stopping of this two stroke motor kits is this: 

You can still pedal bike like normal with clutch lever held in or locked in with button. 

To Start: It's just like riding a bike normally, hold in the clutch and pedal the bike to get some speed, then release the clutch to "Jump Start" the motor. If you know of or remember jump starting a Manual VW Bug this start method is the same.

To Stop: While the engine is running you can hold in the clutch and the engine will idle. Push the Kill Switch on the throttle to kill the motor. The clutch must be held in when the bike is in motion or the motor will keep running. 


Bicycle Requirements:
This bicycle motor engine kit fits most Mens 24" and larger bicycles which includes mountain, cruiser, chopper and road bikes with a V-frame with at least a 8.5" height clearance for the engine. Larger frame size requires drilling into bike frame and use of the universal face plate.
Dimensions:
This bicycle motor engine kit is about 8.5" height 7" length 5" width and fits on most standard 24" – 26" or 25mm 29mm frame bicycle frame tubes. Larger frame size requires drilling into bike frame and use the universal face plate. This engine kit only adds about 24 lbs to your bike.
* Orders received Monday - Friday by 3:00PM EST are eligible for
Same Day Shipping! Except for USPS which ships the next business day.
Gas And Oil Mixture For Fuel Ratio: (Use of a synthetic 2 stroke oil is recommended.)
This bicycle motor engine kit is a 2 cycle/2 stroke design, therefore, a gasoline/oil mixture is necessary as follows:
When New:

 

16 to 1 (8oz per Gallon)
After 2 Tanks Of Break In:

 

32 to 1 (4oz per Gallon)
The engine crankshaft bearings are lubricated from the oil in the gas mix. A rich break in oil mixture ensures bearings will not cease during engine break in period.
Skills & Experience:
The buyer may need some basic hardware skills, tools, and it takes roughly around 2-3 hours to install and to do some adjustments and fine tuning for yourmotorized bicycle.
Notices and Disclaimer:
Operating a bike, motorized bicycle or bike with a bicycle engine kit installed involves some risk of serious bodily injury. Buyer accepts responsibility for any and all vehicle operation that may lead to personal injury, economic loss, social distress, other losses, costs and damages.
Seller is not responsible for injuries and/or damages resulting from operating this motorized bicycle or bicycle engine kit.
Seller is not responsible for misuse of this kit or any warranty after installation.
Not all motorized bicycles are allowed for on road use.
We make no guarantee as to the road legality of these bike motors.
Our gasoline operated products are NOT compliant with Environmental Protection Agency ( E.P.A. ) or California Air Resources Board (C.A.R.B) for the use on/off Public roads. Upon purchase, the buyer agrees to use products for racing (closed-course competition) only and NOT for on/off public roads.
---
We Also Recommend
---