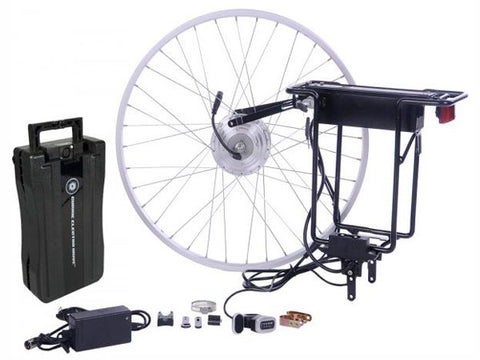 Currie Electro-Drive® Conversion Kit 4
Limited-Time Only: Special Sale Price and Free Ground Shipping

Currie Electro-Drive® Conversion Kit 4

Already going green with your bicycle but want more power? If you have a bike and want to convert it into an electric bike, the Currie Electro Drive Conversion Kit is your answer! Go faster and arrive with less effort (and sweat!) when you convert your bicycle into an electric-powered bike.





MODEL : 2012
TOP SPEED :Up to 18 mph / 28 km/h
RANGE :Up to 15 - 22 Miles / 24 - 35 km




250W Geared DC Brushless Geared Hub Motor
Stylish Rack Mount Battery System
Thumb Actuated Throttle with Battery Gauge
Complete with all the Necessities to Convert your Bike




Electrify your ride, Part 4




The new Currie Electro-Drive® Conversion Kit 4 easily transforms a standard bicycle into a modern electric powered bike. The kit offers Currie's proprietary Electro-Drive® System that includes a powerful 250 watt front wheel drive system plus our stylish rack mount battery pack system which also houses all of the motor control electronics. The kit includes one 24V10Ah 240Wh battery pack and a Currie Smart charger to recharge the pack. The rack also has a second slot to insert a second, optional battery pack in the event you want to double your travel range.




The kit easily installs onto most 26" wheel, mountain or comfort style bicycles). The drive wheel is spaced for a standard front fork that is common on many bikes today. If the bike that you are planning on converting has something other then a standard fork or you have a front disc brake, the kit may still be fitted however we strongly recommend that the conversion be made by an authorized Currie Dealer.




The Currie Electro-Drive® conversion kit is an economical way to experience an electric bicycle by converting the bike you already own, but be careful – eBikes can be contagious so you may find yourself stepping up to one of our complete bikes before you know it.
---
We Also Recommend
---