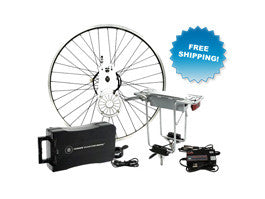 Electric Bicycles > Electric Bike Conversion Kits
Limited-Time Only: Special Sale Price and Free Ground Shipping
Currie® Electro Drive Conversion Kit w/ Plug & Play Battery Pack
Electric Bike Conversion Kit
Already going green with your bicycle but want more power? If you have a bike and want to convert it into an electric bike, the Currie Electro Drive Conversion Kit is your answer! Go faster and arrive with less effort (and sweat!) when you convert your bicycle into an electric-powered bike.
This electric bike conversion kit will easily transform a standard bike into an electric bike. The conversion kit includes:
Powerful 450 Watt Rear Wheel Drive System
Stylish Rack Mount Battery System
Thumb Actuated Throttle with Battery Gauge
Complete with all the necessities to convert your bike
Easily add an optional second battery pack to double the range
---
What is the Currie Electro Drive Electric Bike Conversion Kit?
This kit is designed to transform your standard bicycle (manual pedal power) to an electric-powered bike which is powered by a motor and battery pack. This electric bike conversion kit is designed to fit on bicycles with a standard 7-speed flywheel. This type of flywheel is very common and is most likely your type. If you are unsure are are planning to convert something other than a 7-speed flywheel, the kit may still be fitted however it is strongly advised that you the conversion be made by an authorized Currie dealer.
---
Electric Conversion Kit Contents:
Rear Wheel (less tired/tube/freewheel), Brackets and Hardware
Alloy 26" x 1.75" Rim: Suitable for Mounting 26 x 1.5" to 26 x 2.2125" Tire, Inner Tube and Rim Strip from your Original Bike; Hub: will Accept 7-Speed Freewheel from your Original Bike; Hub Spacing 135 mm OLN (Standard 7-Speed)
24V 10AH Battery Pack (one included - converted bike can hold a total of two)
EV Rated SLA Type, Rear Rack Mounted, 24V/10AH Pack, (Consisting of two 12V/10AH Valve Regulated, Sealed Lead Acid Rechargeable Batteris in Series)
Rear Rack (Controller Inside)
Throttle
Exclusive Currie Electro-Drive 24 Volt Fully Potted with Power Guage Function
Battery Charger
UL Listed Currie Smart Charger with LED Status Display
450W Motor
450W Rated Power from a DC Earth Magnet Motor
---
Common Questions and More Details on the Electric Bike Conversion Kit
Drive: Patented Currie Electro-Drive System. Combine with the Drive Train System from your Standard Bike to get Hybrid Power
User Controls: Power On/Off Switch on Back of Rack; Easily Access Charger Port in Removable Battery Pack (Can Charge On or Off the Bike), Twist Thumb Throttle with TAG (Twist and Go) Function & Battery Guage Indicator for Mounting and Handlebar
What is the top speed on the electric bike I can achieve once I've converted my bicycle with the electric bike conversion kit?

*** 15+ mph/24km (Rider Weight, Rider Input and Terrain Contingent)
What will be the range of my electric bike? In other words, how far can I go on the electric bike before I need to recharge my battery?


*** 10 - 15 or More Miles/16 - 24 km with Normal Pedaling (Rider Weight, Rider Input (Pedaling) and Terrain Contingent). Easily Add an Optional Second Battery Pack to Double the Range. (See related products below for extra battery packs.)
Is there a weight limit for a bicycle that is being converted to an electric bike?

*** To get the most out of your new electric-powered bike after using the conversion kit, do not exceed 240lbs (109kg).
Is it safe to convert a bicycle into an electric bike for young kids? What is the age limit for the electric bike conversion kit?

*** For safety reasons, riders on an electric bike should be 13 years or older.
---
Reasons to Convert to an Electric Bike
Better for the environment
Save money on gas
Save money on parking
Get to your destination faster
Travel farther
No more showing up sweaty or exhausted
For installation instructions on how to install the electric bike conversion kit, visit the Support tab above
---
We Also Recommend
---