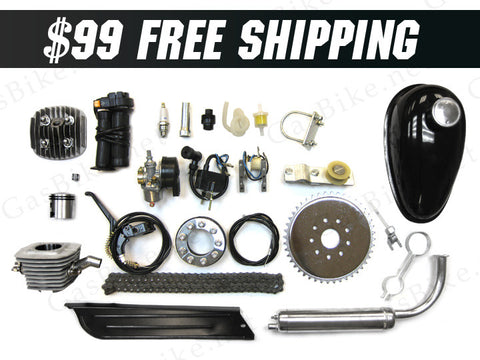 Motorized Gas Bicycle Engine Repair Kit # 4
Motorized Gas Bicycle Engine Repair Kit # 4
***Please take note that this is not a complete engine kit.
Free Shipping (Except for international shipments). Parts included are:
1. Throttle Handle
2. Spark Plug
3. Head Bolt/Spark Plug Remover Tool
4. Screw Tool
5. Fuel Line #2
6. Fuel Filter
7. universal Mount
8. NT Carburetor
9. CDI Coil
10. Spark Wire Magneto
11. Idler Pulley Chain Tensioner
12. Clutch Handle Complete Assembly
13. Pineapple Bushing Kit
14. Throttle Cable
15. 44 Tooth Sprocket
16. 415 Heavy Duty Bike Chain
17. (66cc / 80cc for SkyHawk ) Cylinder Head Cover
18. (66cc / 80cc for SkyHawk ) Piston
19. (66cc / 80cc for SkyHawk ) Cylinder Body
20. Needle Bearing
21. Gas Tank - 2.0L
22. Exhaust Muffler - Chrome
23. Chain Casing
24. Exhaust Muffler Ring
25. Gasoline Tank Switch
26. Air Intake Pipe
Get Free Shipping! - Spend $60 or more on Bike Motor Parts and get free shipping on the parts in your order. Shipping charges will still apply to items from other categories.
* Orders received Monday - Friday by 3:00PM EST are eligible for
Same Day Shipping! Except for USPS which ships the next business day.
Our gasoline operated products are NOT compliant with Enviromental Portection Agency ( E.P.A. ) or California Air Resources Board (C.A.R.B) for the use on/off Public roads. Upon purchase, the buyer agrees to use products for racing (closed-course competition) only and NOT for on/off public roads.
---
We Also Recommend
---